Cataracts are extremely common, but the only way to get rid of them is through surgery. If you have a cataract evaluation coming up to discuss your removal options, your surgeon will need to conduct a complete eye exam, and it's important that you don't wear your contacts in the days leading up to your appointment. Here's why and some more details you need to know.
Why Must You Not Wear Contacts for a Cataract Evaluation?
If you wear contact lenses, you must stop wearing them before your cataract evaluation. This is important because contacts distort the shape of the cornea, which will impact the accuracy of all the measurements the doctor must take during the evaluation.
While abstaining from contact lenses, you should switch to a pair of spectacles with an updated prescription. If you don't have a pair of glasses that suit your current needs, your eye doctor can get you fitted with a pair quickly, so you feel comfortable driving, working, and going about your daily activities without contact lenses.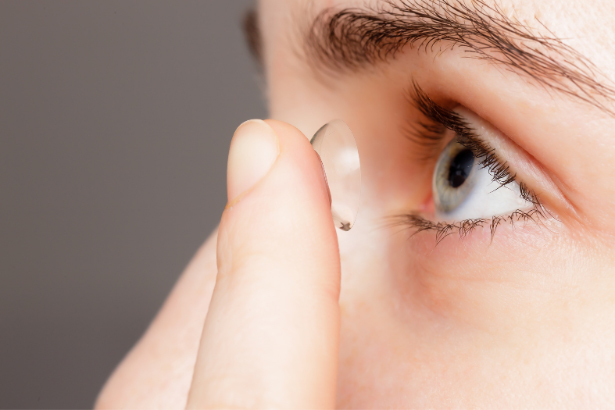 How Long Should You Avoid Wearing Contacts Before a Cataract Evaluation?
The length of time you must abstain from wearing contacts prior to your cataract evaluation and surgery will depend on the type of contacts you wear.
Avoid wearing soft contacts for at least three days prior to your appointment.
Avoid wearing rigid contacts for at least three weeks prior to your appointment.
It's important to abstain from wearing contact lenses leading up to your consultation. If you decide to move forward with surgery, you can go back to wearing your contacts temporarily after all measurements have been taken, but you will want to abstain from wearing them at least a day prior to your surgery and the day of your surgery.
What to Expect During Your Cataract Evaluation
During a cataract evaluation, your surgeon will thoroughly examine your eyes to:
Determine your refraction or your eyeglass prescription
Measure your vision with and without glasses to check your visual acuity
Measure tonometry or the pressures inside your eye
Check the front part of your eye under a slip-lamp
Dilate your pupils to examine the retina inside your eye
Following the examination, you and your surgeon can determine if cataract surgery is the next best step. If you decide to move forward with surgery, a few further tests will be conducted, including the curvature of your cornea, ultrasonic measurement of your eye length, and intraocular lens calculations to help plan the surgery.
Do you have questions about cataract surgery or wish to book an evaluation? Contact your eye specialist today.