Penetrating Keratoplasty
Penetrating keratoplasty (PKP) is a full thickness corneal transplant. It is the most commonly-performed transplantation procedure in the world and done in an outpatient setting, meaning the patient can go home after the surgery is complete.  PKP involves the replacement of a damaged cornea with a healthy one from a donor.
The goal of the procedure is to improve patients' visual activity. Though the procedure is relatively common compared to other transplantation surgeries, it is only appropriate in extreme cases.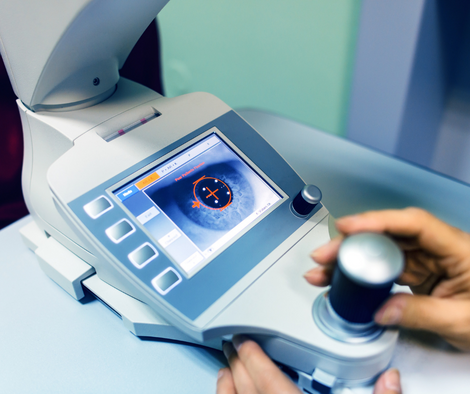 If a patient suffers poor vision or chronic pain from a corneal condition, disease, or injury, they are likely a good candidate for a corneal transplant. Before the penetrating keratoplasty procedure begins, a local or general anesthesia is administered. Your eye surgeon will then use a trephine, a circular cutting device, to cut the donor cornea to the exact shape and size that is needed.
A second trephine is then used to remove a matching portion of the patient's cornea, at which point the donor tissue is positioned and sewn into place. The physician will then apply antibiotic eye drops and cover the eye with a protective shield.
Penetrating keratoplasty (PKP) is performed for a variety of reasons, related to various conditions that are suffered by patients. Often, the goal of the procedure is to improve the vision of patients. It can also be a reconstructive procedure to correct the anatomy of the eye following a perforation or other disruption. Finally, the transplant could be performed for therapeutic reasons, to remove unhealthy or infected tissue to ensure that inflammation does not spread.