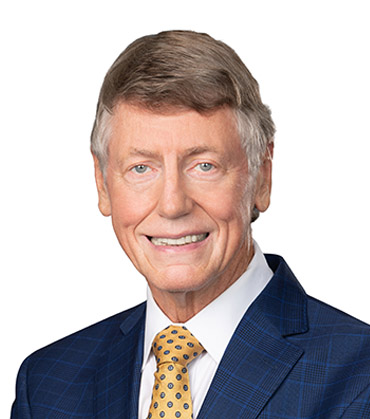 Marnix E. Heersink, M.D.
Cataract & Laser Refractive Surgeon
Board Certified
Marnix E. Heersink, M.D., co-founder of Eye Center South, graduated Magna Cum Laude with a B.A. degree and an M.D. degree from the University of Western Ontario in London, Ontario. His internship was completed at the Royal Victoria Hospital in Montreal, Canada, while his residency in Ophthalmology was performed at Wills Eye Hospital in Philadelphia, Pennsylvania. He completed a fellowship in cataract surgery and intraocular lens implantation in Philadelphia. Following his training, he and his wife, Mary Parks Heersink, moved to Dothan Alabama.
As a professional, his activities and affiliations are numerous. He is a Fellow and member of several Professional Organizations including the American Academy of Ophthalmology, International College of Surgeons, American College of Surgeons, American Society of Cataract and Refractive Surgery and The Royal College of Physicians and Surgeons.
He is certified by the American Board of Ophthalmology and American Board of Eye Surgery. His professional memberships also include the Houston County Medical Society, Medical Association of the State of Alabama, American Intraocular Implant Society and American Medical Association. Dr. Heersink has a special interest and training in the diagnosis and surgical treatment of cataracts as well as laser vision correction.
Dr. and Mrs. Heersink have committed their lives to raising their family, involving themselves in multiple initiatives and communities focused on healthcare, and providing opportunities and incentives for others through their philanthropy. They are passionate about education and opportunity for others and actively promote ties among people, universities, and countries.
The Heersinks have shown their support for many organizations by serving on numerous boards and supporting financially; including First United Methodist Church, Wallace Community College, Troy University, Marion Military Institute, Wiregrass Museum of Art, Houston Academy, Landmark Park, STOP Foodborne Illness, The Netherland-America Foundation, The Boys Scouts of America, Alabama Institute of Deaf and Blind, Boys and Girls Club of Alabama University of Western Ontario, and the Wiregrass Humane Society to name a few.
Last year the Heersink Family made two major transformative gifts to two universities–The University of Alabama at Birmingham, now named The University of Alabama at Birmingham Marnix E. Heersink School of Medicine and McMaster University in Hamilton, Ontario–to stimulate biomedical innovation and entrepreneurship as well as Global Health.
Dr. and Mrs. Heersink have been married 44 years and have six adult children, all of whom are in the medical field as well as entrepreneurial activities, with one dentist and five physicians. Marnix and Mary also enjoy spending time with their 10 grandchildren.