Descemet Membrane Endothelial Keratoplasty
DMEK – DMEK stands for Descemet's Membrane Endothelial Keratoplasty. In this procedure the poorly functioning endothelial cells are removed along with Descemet's membrane and replaced with healthy endothelium and Descemet's membrane from an organ donor. DMEK is the most advanced form of partial corneal transplant procedure indicated in diseases affecting the innermost, endothelial layer of the cornea. This technique allows for decreased rates of rejection and faster visual recovery.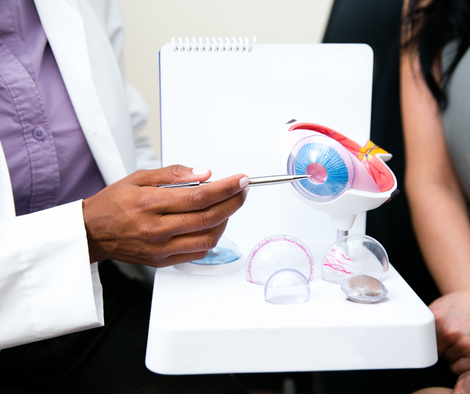 DMEK is a form of corneal transplant surgery used to help patients who have poor vision due to corneal swelling. The cornea is the clear, front surface of the eye; the part of the eye on which contact lenses are worn. Light rays must pass through a clear cornea to the interior of the eye for normal vision to occur. The inside surface of the cornea is covered by a layer of cells known as endothelial cells. These cells rest upon a membrane called Descemet's membrane. The endothelial cells have an important metabolic function that keeps the cornea clear. When they don't work properly due to disease or damage, the cornea becomes swollen and cloudy.
There are no sutures used to keep the transplant in place; rather an air bubble is injected into the eye, which keeps the transplanted tissue in place. Because air floats up, patients are expected to lie on their back or keep their head face-up as much as they can for the first 24 to 48 hours after surgery. Also, since there are no sutures used to anchor the graft, there is a risk that the graft may "slip" or dislocate after surgery, in which case the surgeon will need to "re-float" the graft. This is something that surgeons expect may happen infrequently after a DMEK, either immediately after surgery or the next day.
DMEK is best suited for diseases that cause corneal swelling by affecting the innermost layer of the cornea such as:
Fuchs' endothelial dystrophy
Posterior polymorphous membrane dystrophy
Congenital hereditary endothelial dystrophy
Bullous keratopathy
Iridocorneal endothelial (ICE) syndrome
Failed previous corneal transplants
DMEK surgery is highly successful. If the graft is not fully attached, a small in-office procedure may be needed to place an additional air bubble in the eye. Significant, sight-threatening complications are exceedingly rare. These include intraocular infection (endophthalmitis), retinal detachment, corneal edema (swelling), retinal edema (swelling), and hemorrhage. Additional surgery may be necessary if the corneal swelling never clears. Abnormalities of pupil size, shape, or function may rarely result from corneal surgery.