We all know we need to get a healthy dose of vitamins every day, but can taking a vision supplement really support better vision? While ophthalmologists agree that we need more comprehensive studies on the impact of vision supplements can have, the trials done so far point to good news.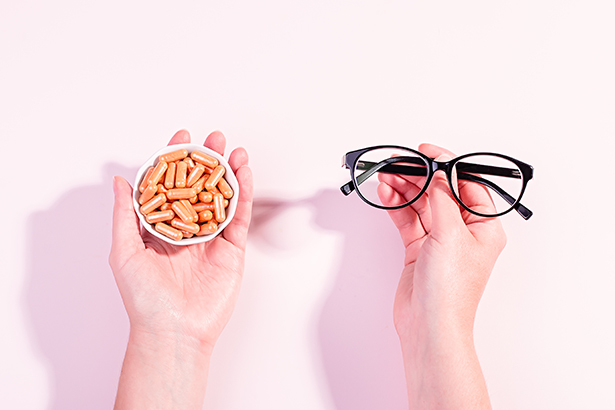 In the age-related eye disease study (AREDS), it was found that the group receiving a specialized supplement blend had a 25% lower risk of worsening age-related macular degeneration. These results demonstrate just how important it is to get your vitamins and minerals, especially as you age. The question is, which supplements should you take? Here's some information on the most common vision supplements available.
Macular Support
In the study mentioned above, the group took an AREDS vitamin like this one, which consists of lutein, zeaxanthin, zinc, and other antioxidants.
Lutein helps prevent inflammation throughout the body, but it's been shown to have a major impact on eye health by improving and preventing age-related macular disease (which is the leading cause of vision problems and blindness).
Zeaxanthin is believed to act as a light filter, which helps protect delicate eye tissues from UV damage. You can get zeaxanthin from foods like oranges, mango, and goji berries, but a supplement can help you make sure you're getting enough.
Zinc has been shown to protect your eyes against night blindness and certain forms of macular degeneration.
There is also a zinc-free formulation, which your doctor may recommend based on other factors.
Macular Support + Meso-Z
Protecting your eye tissues from light damage is a big part of preventing age-related vision loss. However, if you're like the average person, you're probably
exposed more to artificial light — like the blue light that emits from your device screens — than to sunlight.
For anyone who looks at screens often, a supplement like this one with Meso-Z will provide the extra protection your eyes need. In addition to lutein and zeaxanthin, this supplement also contains meso-zeaxanthin along with essential antioxidants and anti-inflammatories.
Glucose 2
Lutein and zeaxanthin are essential for eye health, but if you're looking for a more complete supplement, Glucose 2 might be the right choice for you. In addition to lutein and zeaxanthin, it contains:
Green tea is packed with nutrients, including gallocatechol, a flavonoid that collects in the retina to provide blue light protection.
Vitamin C helps protect against age-related macular degeneration and cataracts.
Vitamin E is a potent antioxidant and preliminary research shows it could help protect your vision.
Vitamin D can improve tear function while reducing your risk of cataracts, macular degeneration, and glaucoma.
Tear Support
If you suffer from dry eyes, a supplement designed to improve tear function can help restore eye health and eliminate discomfort. The Tear Support supplement is intended to do just that by providing a combination of Vitamin E and:
Fish Oil is an omega-3 fatty acid supplement, which the Mayo Clinic says can reduce symptoms of dry eyes.
Borage Seed Oil contains gamma-linolenic acid (GLA), which is the most powerful omega-6.
Organic Flaxseed Oil contains a lot of alpha-linolenic acid (ALA), which is another omega-3 to help stimulate tear production.
Premier Formula
The Premier Formula combines all of the most proven eye supplements into one daily pill consisting of lutein, zeaxanthin, zinc, vitamin E, and vitamin C
with the addition of copper. Copper, or copper gluconate, is an essential mineral that supports healthy eye function and can help prevent age-related macular degeneration.
Zinc Formula
If health or genetic factors prevent you from taking certain supplements, our Zinc Formula is a simple source of zinc and copper that can help you support your vision health without compromising in other areas. Ask your doctor if you're not sure what you should supplement with.
Where to Buy Eye Supplements
Now that you understand some of the top vision supplements and how they can support your vision health, the next step is to pick out the one that you feel is right for your lifestyle. Visit our shop today!